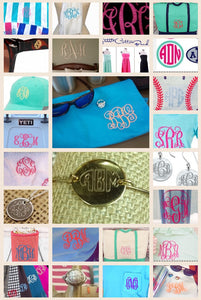 ---
  Everyone loves a "Little Happy" 
Most of us have been there... You tell your kids, if you will be good I will get you a surprise! It is always the greatest leverage to say, you better be good! Remember your surprise and the kids magically behave and do as told (at least for a few minutes)I always called their surprises a "Little Happy" ... I got you a "Little Happy" because you were good!!! 
I was joking around one day and said, I wish I got a "Little Happy" just for being good (and some times not so good!) and a friend told me, you can!!! You deserve it!! Do something for yourself!! That's when the "Little Happy" Monogram Surprise...